Jose Gutierrez, Rideal'sProduct Lead at KEITA, brought the topic of micro incentives for sustainable mobility into the discussion of the S+LOADZ workshop that was held on the 9th of July in Barcelona in the EIT headquarters. 
What is a micro-incentive?
A mobility micro-incentive is a monetary or an in-kind reward based on flexible sets of criteria to maximize societal goals. Contrary to regulation, micro-incentives pretend to nudge mobility behaviour by encouraging change rather than penalizing actions and decisions.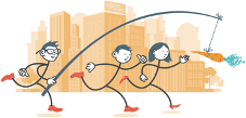 Figure. Micro-incentives objective:
Nudge mobility behaviour
What is the potential of micro-incentives for sustainable logistics?
Microincentives are a tool to nudge mobility behaviour in all its forms, logistics being one of them. As part of S+LOADZ, different scenarios are presented using microincentive ideas, one of the most notorious strategies is the idea to nudge (carrot) instead of regulate (stick) the allowance of logistics vehicles depending on their environmental badge. For example, an electric car could be entitled to a couple of hours of free parking within a Low Emission Zone (LEZ) whereas other vehicles could be entitled to enter without the micro-incentive (free parking).
Rideal develops scenarios for cities/regions to foresee the potential benefits of using microincentives to nudging logistics behaviour, including companies to use fleets of low- to zero-emissions vehicles for last mile deliveries or innovative and targeted services to reduce congestion and environmental impact as well as optimising logistics

Figure. Examples: Micro-incentives applied to logistics
What was the workshop about?
The workshop consisted in  the ideation, analysis and evaluation of microincentive ideas for logistics that can help  nudging towards more sustainable logistics.
The initial brainstorming and analysis was done in three different teams  representing each of the three regions in the consortium: Ankara, Paris region (Paris city and Paris Metrople) and Vic.
In the second part of the workshop, everyone collaborated in selecting which ideas for microincentives in logistics were more benefitial and less challenging.
Workshop results
When discussing strategies for logistics microincentives, the most relevant ideas that resulted from the workshop were the following:
Main issues
Congested road with multiple uses such as commercial and residential.
Solution
Create minihubs where parking places exist nowadays. Only cargobikes can deliver from this minihub for the last mile.
Key words
 Cargobikes, Minihub, Short-stays, Active modes, Bicycles & Kickscooters, Scalable solution, Change in governance. 
Main issues 2
Private commercial area with high density freight delivery.
Solution 2
Fidelity program for correct use of the parking areas with rewards like discount in parking
Key words 2
 Simple implementation, Positive mobility impact, No environmental benefit.
Main issues 3
High emission vehicles delivering goods
Solution 3
Delivering goods for free if providers use zero-emission vehicles
Key words 3
Zero-emission deliveries, Win-win, Last-mile, Cargo bikes, Active Modes, Shop owners benefits.
In general terms, micro incentives for logistics are an opportunity to have a positive impact for sustainable logistics and improved operational efficiency. However, they need to be part of a more comprehensive framework in which sustainable logistics are part of the goal of the city (or any context) to improve mobility.
Next steps
Understand the point of view of logistic companies regarding the identified micro-incentives.

Propose micro-incentive ideas for sustainable logistics for each of the S+LOADZ's cities, with a work plan, roadmap and challenges identification. 

Transform urban logistics using micro-incentives.
Imagine how logistics can be improved using micro-incentives, do you know want to know more about the idea behind it? Check Rideal