During the July meeting of S+LOADZ consortium, Carles Sentís, CEO of Parkunload presented  the "Dos – and Do Not´s" for a successful implementation of the  Smart and sustainable digital loading zones. In summary there are 6 keys for success:
1. Better together! The physical distribution
The digital loading zones work much better clustered together than dispersed or scattered around the city.

2. The design matters!  The road sign designs
The road signs of the project should have an effective and clear message and should include those signs and symbols pertaining to official (usually national) traffic regulations. The response to the road signs is better when they support and promote rules compliance.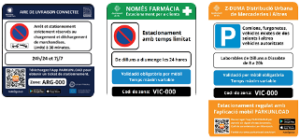 3. Warnings for good behaviour! Parking control with warning notes
Leaving warning notes to vehicles overstaying or without permit is a must to promote better behaviour among the drivers. This will generate awareness of the digital zone rules and enhance its enforcement

4. The more the better! Number of digital loading zones in the city
It is recommended to implement enough loading zones to achieve a real impact in a specific area of the city
5. Communicate, communicate, communicate!
Communication with key stakeholders should be constant throughout the life of the project, ensuring their commitment and support for the project. WHAT happens, WHEN it happens, WHERE it happens, WHY it happens, WHO it affects.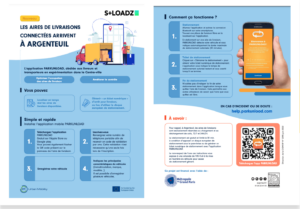 For the launch of the project, it is recommended to use brochures/flyers/leaflets. For the life of the project, it is recommended to have a two-way communication channel with users and citizens, and it is recommended to use official social media and the official city website. It is also advised to use press releases and videos to explain the project, its benefits and potential impact to stakeholders.
6. Parking enforcement with penalty notes
The issuing of penalty/fine notices to vehicles that exceed the stay limit or do not have an authorised parking permit is definitive and has proven to be very effective, resulting in higher space rotation. Ideally, it happens as a second phase; during the first months of the pilot project warning notes can be used (see Point 3) especially as part of the Communication Plan (see Point 5). Progressively increasing users awareness is a good way of ensuring a positive uptake of the scheme.