By José Luis González Gómez & Juan Beneytez Salvadores
What does urban logistics looks like today?
Today's logistics supply chain architecture was built for an era where customers visited retailers to buy what they needed, but the way that customers are buying is changing, and quickly.
On average 80% of urban goods distribution in a city like Madrid is directed to bars, restaurants, shops, industry and similar locations. The delivery providers in this market are highly specialised with tight relationships between customer and supplier and although there have been some delivery improvements (e.g. the use of electric vehicles, automatic stock estimation/detection/reporting, digitalization and some adaptations to city regulations),  these businesses work more or less in the same way as they always have and are mostly dependent on the same type of delivery services as before.
E-commerce on the other hand, where private consumers are the primary recipient, has experimented a boom during the last five years (and even more during the pandemic), and although only a small market share compared with the good deliveries already described, it is a market that in Western Europe (UK, Germany, France, Netherlands, Italy and Spain) alone has grew 47.5% since 2015 to €327Bn in 2020 and after the COVID 19 pandemic is expected to grow  in 2022 and surpass $700Bn. In 2023, digital sales in the region will reach $750.22Bn. Worldwide e-commerce is expected to generate sales of €5.55Tn in 2022.
Higher sales would mean higher pressure on cities infrastructure as they get more congested with delivery vans and other modes of transport.
What is the impact of e-commerce in cities?
With e-commerce, supply is no longer limited, it is virtual and (almost) always available. E-commerce is changing the way people are buying, their need of immediateness, the demand for flexibility of delivery to any location, the possibility to change of plans, the expectation of free delivery and free returns. Considering this, the questions are: At what cost? What are the consequences for the service providers, consumers, cities and other citizens?
Urban freight is a contributor to poor air quality and congestion. In Europe alone is responsible for 10-15% of total vehicle miles travelled as well as a disproportionate amount of contamination: 25% of CO2 emissions and 30 – 50% of other transport related pollutants such as particulates and nitrous oxide (NOx).
The last-mile is the most expensive from the logistics business perspective, exceeding 50% of the total cost  and with deliveries directly to customers taking an increasing market share compared to corporate deliveries; profits are reduced; delivery routes are not optimised and delivery execution is impacted by city congestion and limitations imposed by new regulations, lorries are not completely loaded due to lack of partnerships, limited bundling – all of which adding up to make e-commerce deliveries hugely inefficient.
At a customer level around 30% of all products ordered online are returned (wrong size, does not meet expectations, does not match web description, etc.). Customers require simple solutions that can cover with their needs when buying online, receiving but also returning their orders.
Cities are not prepared for e-commerce at the levels that we already have today, but we are on time to find and apply new solutions.
What solutions our out there to coop with growing demand for e-commerce in cities?
Congestion Zones
Governments are already making regulation changes in cities as access, parking restrictions, lane management or road charging to reduce traffic congestion and pollution. As an example, the is Madrid 360º in Spain or London Congestion Charge in the UK. These new regulations have a direct impact in goods distributions for example forcing the use of sustainable vehicles and efficient delivery planning, in order to avoid fees and company losses. Only in New York City UPS payed $23M in parking tickets in 2019.
Urban Hubs
One of the main logistic improvements that is being widely adopted to solve many urban delivery problems, apart from the introduction of delivery lockers, is the introduction of urban hubs. Up until now the warehouses were generally located at the outskirts of cities, but higher efficiencies are accomplished when urban hubs are included into the supply chain architecture, bundling the goods which are then ready for last mile delivery with smaller and more sustainable transports: e-vehicles, bicycles, drones or autonomous pods. There are many possible models that can be used for their implementation: fixed hubs including dark stores, mobile hubs, parking areas at night used as cross-docking areas or micro-hubs using existing empty spaces from other existing urban establishments. Also, all these hubs can be multi-propose, using them for other types of city services as city lockers or electrical charging.
FlexZones
In the city of Seattle in the US, they have come up with a comprehensive plan to repurpose parking space. Seattle's urban planners listed six functions to consider while creating, what they call a "flex zone". Flex zone functions are prioritized based on surrounding land use and is adaptable fitting the dynamics of the functions listed as required. Depending on the area or the time of the day, these areas can be used for delivery of goods avoiding double line parking, facilitating traffic flow and avoiding accidents.
Curbside Management
To reduce urban congestion, ensure optimal roadway performance management, encourage new mobility solutions and facilitate on-demand delivery efficiency, it is vital that curb spaces be better utilized. Online shopping and associated deliveries require high demand of available curbside space for loading and unloading goods for delivery. Curbside management solutions seek to inventory, optimize, allocate, and manage curb spaces to maximize mobility and access for a wide variety of curbside demands. A restructuring and correct management of curbside is required to cover all mobility demanding needs.
Solutions like the EIT funded S+LOADZ project and the App Parkunload are helping cities managing the load/unload zones for freight and delivery vehicles.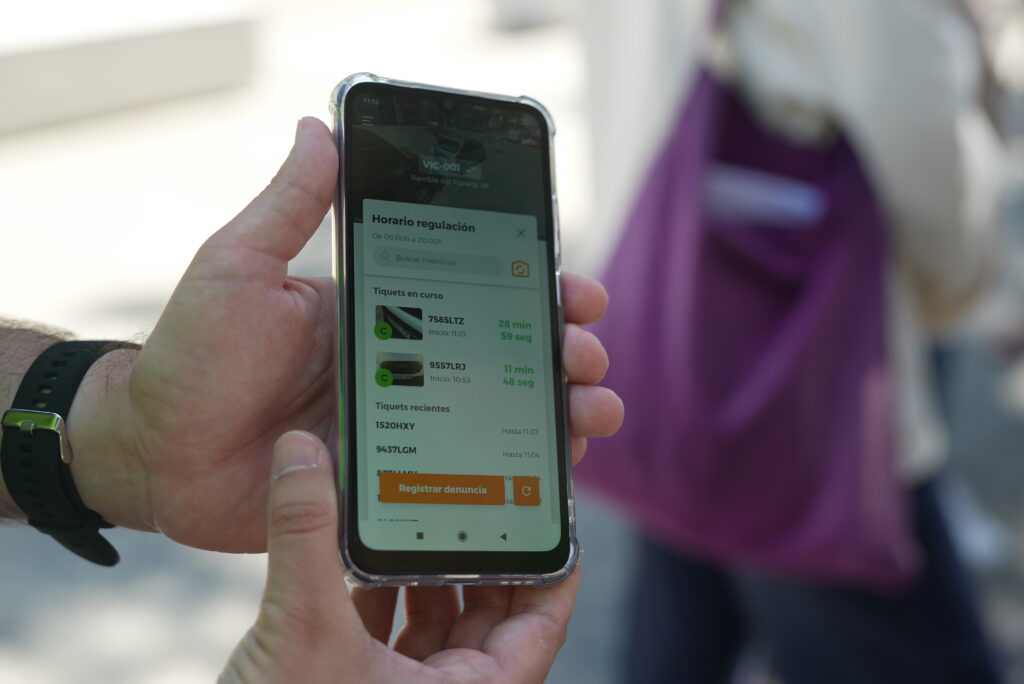 City transportation officials can now repurpose parking spaces dynamically by using the App Parkunload, the web dashboard presents an easy way to manage the various parking bays in the city and to amend and setup the different parameters depending on type of vehicles and users. Very versatile and configurable tool and scalable solution.
With the new software features included in the "Multi-sustainability pack" the company's roadmap for technology and innovation development is looking to integrate solutions like Big Data Analytics to help better understand vehicle movements with live status information, the possibility to register number plates and therefore restrict access by setting up rules for pollution levels. A very comprehensive tool for Cities to manage low emission zones, pollution episodes curbside management and transportation vehicles traffic flows.
Going forward these features will play a key role when it comes to technology innovation in cities; user experience will also be key to ensure adoption of the solution for both logistic companies and city's authorities.  Digital control of parking time based on Apps & Bluetooth proximity sensors seems like a winning and cost-effective solution to implement this in the short and medium term.

    José Luis González Gómez                                                                                                   Juan Beneytez Salvadores
Innovation Mobility Digital Solutions Lead                                                                                               Innovation and Venture Development Manager